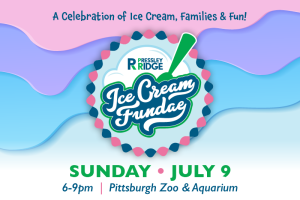 Can I purchase tickets at the gate?

Yes, a limited number of tickets will be available beginning at 5:30 p.m. at the Pressley Ridge tent located across the driveway from the main zoo entrance.

Where can we park?

Free parking is available in the main zoo parking lot.
Ice Cream Fundae tickets provide admission to the event only, which begins at 6:00 p.m. In order to enter the zoo prior to the start of our event at 6:00 p.m., you will need to purchase separate admission tickets to the zoo.

Do I have to follow the order of the scooping stations?

You can go in any order you'd like, starting at the beginning or end, but it is most efficient to go in order if you plan to try all 11 flavors.

Is food available at the zoo?

Jambo Grill is located in Safari Plaza and offers a fresh, made-to-order menu. Cash and credit cards are accepted.

I can no longer attend, can I get a refund?

Unfortunately, all tickets are non-refundable. You are welcome to transfer your tickets to another person/family.

What happens in the case of inclement weather (rain, poor air quality, etc.)
Do zoo members get into the event for free?

No. This is a private event, not a zoo-sponsored event.

Do I have to print my tickets?

Tickets do not need to be printed. Electronic tickets can be scanned from a phone or other device.

Do I have access to the full zoo during the event?

Scooping stations and activities are spread throughout the zoo. The entire zoo is accessible except for Kids Kingdom.

Which flavors of Graeter's Ice Cream will be available?

11 flavors of Graeter's Ice Cream will be available for sampling, including: Birthday Cake, Midnight Snack, Boldly Bearcat, Buckeye Blitz Chocolate Chip, Black Cherry Chocolate Chip, Cotton Candy, Original Salted Caramel, Chocolate Chip, Cookie Dough Chocolate Chip, Strawberry Sorbet and Raspberry Sorbet.

Can a family four pack be used for any combination of adults and/or children?

Yes, the family four pack tickets can be used for adults or children.
If you have additional questions, please e-mail info@pressleyridge.org.