Pressley Ridge is committed to leading in the development of innovative programming through program evaluation, research and outcome measurement. For the past three decades, Pressley Ridge has been steadfast in measuring outcomes from entry to discharge and beyond to evaluate service effectiveness.
---
Organizational Performance Department
The Organizational Performance Department supports the mission of Pressley Ridge through evaluation of youth, family and adult outcomes.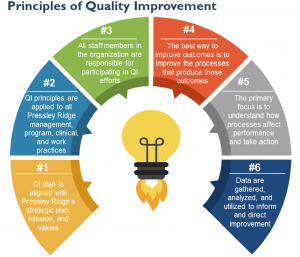 Below is a highlight of the department's activities:
Analyzes outcome data from all programs across the organization.
Conducts follow-up evaluations at 6 and 12 month intervals following discharge to determine if treatment gains are sustained.
Engages in data analyses, management reporting, and quality improvement activities.
Supports programs by aiding in the completion of grant applications and securing additional funding through grants.
This department is comprised of a multidisciplinary team of professionals, each of whom brings a specific expertise and specialized knowledge base to support Pressley Ridge's mission. Along with internal consultation, the department provides external consultation services around implementing quality improvement processes and conducting program evaluations for nonprofit organizations.
---
For more information, contact Amy Strickler, Director, Organizational Performance Department.