Pressley Ridge Ice Cream Fundae has been a summer tradition for Pittsburgh families for 25 years. We are disappointed to miss out on another year of fun, but we look forward to returning to the Pittsburgh Zoo & PPG Aquarium in 2022.
To maintain our commitment to the communities and families we serve, we are partnering with Huntington Bank and Graeter's Ice Cream to take Ice Cream Fundae on the road!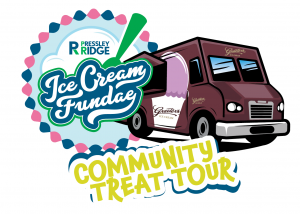 The Pressley Ridge Ice Cream Fundae Community Treat Tour will visit four Pittsburgh-area communities this summer. Along with community partners Allegheny Co. Department of Human Services, Tickets for Kids and the Josh Gibson Foundation, we invite local families to join us for a free outdoor celebration featuring the Graeter's Ice Cream Truck, Magician Christopher Welch, princess visits and other fun activities.