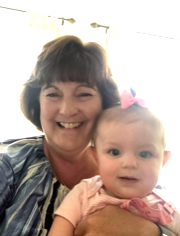 Thirty years ago, I was a young college graduate from Morehead State University looking for my first professional job. I started on August 12, 1991 as a Teacher Counselor at the Grant Gardens Residential Program. I knew that I always wanted to work with teenagers. I have held numerous positions throughout my career in the service lines of Residential, Community-Based, Treatment Foster Care and now what is call Safe at Home.
I was part of starting the Huntington Community-Based Program. I held dual roles by being a liaison in the residential program and then following our youth to their community and providing in-home services. While working the different service lines, I held the positions of program supervisor, residential coordinator, and program director. I received my Master of Arts in Special Education from Marshall University (Go Herd!). This allowed me to grow while in my different leadership roles with the organization.
While being part of a growing organization, I began my own family and had triplets. Raising triplets assisted me in growing in my different job duties, and working for Pressley Ridge assisted me in raising my children. Due to the many different shifts and hours, working at Pressley Ridge made it more flexible juggling the family life. During the last thirty years, I have developed many friendships and have always viewed Pressley Ridge as my family. Co-workers in all my positions have been there to assist in every way possible. Over the years, I have had awesome employees and supervisors. All these people deserve way more that what I can give them. They have assisted in molding me as to who I am today.
I strongly believe in our mission, values, and vision and proud to be a part of an organization that has served so many youths and families. What an honor it has been to see youth thrive and experience their joys and challenges. During my younger residential years, it was a privilege to take youths on camping trips and see the excitement in their eyes no matter the trips. The best was always seeing the glee in their eyes when seeing the ocean for the first time. Another awesome memory is when a mother came up to me at a Christmas party to personally thank me for taking care of her child, while it was a privilege to care for them. (Pressley Ridge also taught me that I do not enjoy horseback riding- lol). I enjoy meeting and getting to know our treatment foster parents and respect them more than they will ever know. How great it is for wonderful people to open their homes for our youths and guiding them in their future paths. Thank you to our youths, parents, employees!!