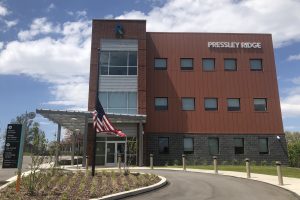 The Pressley Ridge School for Autism is a Licensed Private Academic School that provides intensive social, behavioral and academic interventions to children ages 6-21 who have autism in Allegheny and surrounding counties.
Our goal is to help each student learn the needed skills to be successful participants in their communities. The program's primary objectives include:
Utilizing evidenced-based strategies and materials to encourage academic and social progress
Increasing the student's ability to engage in sustainable relationships with peers and adults so that he/she may remain a part of his family and community
Fostering the advancement of appropriate communication skills
Fostering the student's independence and ability to move toward life goals by developing life-skills
Exploring work-related positions and assisting the student with transition to adulthood
Teaching needed replacement skills so that the student's behavior will be appropriate and socially acceptable in all settings
Our programs succeed when our students and their families succeed, not only while they are with us, but in the future as well.  We provide intensive educational or behavioral outcomes that are long lasting and transferable. Carefully designed goals and effective interventions are developed during the planning process. Skills grow in independence and consistency and are generalized to multiple environments.  The IEP teams mutually agree upon discharge criteria so that it is clear when it is time to transition a student to other available services, a less restricted environment, and natural supports. We also take steps to ensure that appropriate services are in place at discharge in order to sustain and build on that success.
Eligibility Criteria
Pressley Ridge School for Autism is licensed to serve up to 48 students, ages 6 to 21 years who have an autism diagnosis. The IEP team must determine that a student requires more intensive services than are typically available in public schools. The services of Pressley Ridge are available to all persons without discrimination based upon race, color, disability, religion, sex, age, or national origin.
Fees
At the School for Autism, each student's tuition is paid through a contract with the referring school district.  If the student requires a Special Education Aide in order to succeed, Pressley Ridge will provide the support of a one on one aide at an additional cost to the district. Speech Therapy, Occupational Therapy, and Physical Therapy are provided as indicated within the IEP at no additional charge to the district.
A school designed to help students thrive.
The School for Autism was established in 2002 to serve students with autism in Allegheny and surrounding counties. A brand new, state-of-the-art facility opened its doors in 2019 to students of both our School for Autism and School for the Deaf. The school was designed from the ground up with the help of architectural consultants with expertise in the fields of deafness and autism to serve our unique population of students in the most effective way possible.
The new facility is located on our Pittsburgh campus that includes other Pressley Ridge programs, playground areas, an adventure garden and plenty of green space.
More than a classroom.
Our school is more than a series of classrooms. It's the ideal place for students with autism to find fulfillment.
The school is equipped with Snoezelen® Multi-Sensory Environments designed specifically to meet the needs of our students. Interactive materials, including a platform swing, fiber optics and Sensory Magic™ technology, provide direct and indirect stimulation of the senses. Features of the new facility include:
Sensory rooms
Multi-purpose room
STEAM classroom
Culinary classroom and student-run coffee shop
PAES (Practical Assessment Exploration System) Lab
Classrooms are equipped with SmartBoard technology, restrooms, and calming areas
---
---