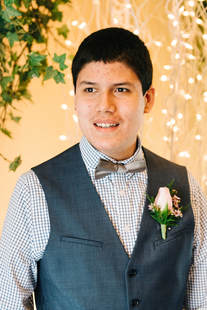 Wendy moved to Pittsburgh from Puerto Rico in search of supports for her then five-year-old son Victor, a non-verbal youth with autism and intellectual disabilities. By the time he was 14, the intensity and frequency of his unsafe behaviors required out-of-home placement at a residential treatment facility. Wendy sought a long-term care provider for Victor and entrusted his treatment to Pressley Ridge.
In October 2015, Victor came to live at Home Places, Pressley Ridge's residential treatment facility for youth with autism or developmental disabilities, and began attending the Pressley Ridge School for Autism.
With an established routine and a consistent staff presence, Victor became accustomed to his new house and housemates. As his behaviors stabilized, staff began to work on increasing his social skills, communication and ability to tolerate unanticipated changes in his daily schedule.
Since beginning services with Pressley Ridge, Victor has had many successes, including increased communication in school through his iPad, participating in Miracle League baseball and riding a train in Canada with his mom to visit extended family. Victor, along with the two other young men who live in his program house, has attended a range of new activities from sensory-friendly movies to Penguins' hockey games and a monster truck show. He is also able to spend more time in the company of others and is less rigid in his routine.
Victor has had the opportunity to rebuild a strong relationship with his mother during weekly visits at Home Places, as well as regular home visits. Recently, along with a little encouragement from Pressley Ridge staff, Victor even walked his mother down the aisle at her wedding. Wendy described his achievements by saying, "I have my Victor back."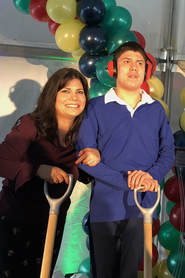 Family, Teachers and Home Places staff work together on Victor's individualized goals. Since his first day at Home Places, Victor has had the same residential staff members working with him, and Wendy attributes his progress to them. "It has been a transformative experience for Victor and for me, and it is all due to our combined efforts with the Home Places staff. They are a dream team and work in perfect harmony to ensure that all three boys have successful and meaningful lives. I am a witness to their dedication…and I am grateful for this blessing."
​
​At the March 2018 groundbreaking ceremony for the new Pressley Ridge School for Autism and Deaf, Wendy spoke about what the new school will mean to her and her family.
It has been a transformative experience for Victor and for me, and it is all due to our combined efforts with the Home Places staff. They are a dream team and work in perfect harmony to ensure that all three boys have successful and meaningful lives. I am a witness to their dedication…and I am grateful for this blessing."

Wendy