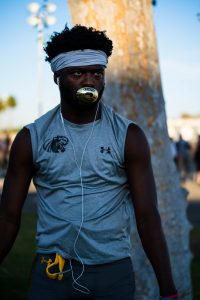 Alonzo was a high school football star with aspirations for a better life. His foster parents, Hope and Benjamin Jackson, gave him constant encouragement and fully supported his transfer to St. Frances Academy. The school not only had an outstanding football program, but more importantly to Alonzo, it also offered a superior education and the chance for a better future.
"I wanted more for myself and a better chance to play college football," Alonzo said. "The Jacksons were kind and caring and gave me the support I needed."
In his senior year at St. Frances Academy, Alonzo and his teammates earned a state championship and were featured in a four-part docuseries called The Cost of Winning, which aired in November 2020 on HBO.
Alonzo graduated in 2020 with a 3.0 GPA. In November live on Good Morning America, Michael Strahan, who produced The Cost of Winning, presented Alonzo with $25,000 college scholarship courtesy of Gillette. Alonzo is using the scholarship to attend ASA College in Miami, FL where he plans to receive his Associates Degree in Film Production in April 2022 and then transfer to a four-year university to finish out his college football career.