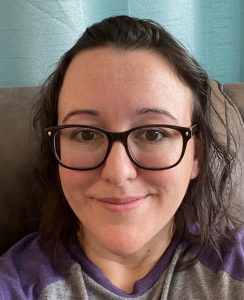 One of seven children, Chrissy grew up in a home with parents who had significant personal issues. Her mother, who was 13 years younger than her father, had her first child at the age of 16 and went on to have a total of five girls and two boys. Chrissy's father suffered from post-traumatic stress disorder (PTSD).
Her parents divorced when she was eight years old, and for the next three years, Chrissy and her siblings bounced around between living with relatives and their mom and dad. Chrissy's mom worked several jobs to make ends meet, frequently resulting in the kids being left alone and fending for themselves. Most often, Chrissy was one of three children who ended up with her dad. Ultimately, he would suffer a manic episode and she would have to return to living with her mother or other relatives. When Chrissy's dad did not have the children, he would further complicate their lives by showing up at their bus stop and taking them without permission from their caretaker.
After Chrissy turned eleven, Child Services removed the children from the home for short periods of time, placing them between her mom, dad, grandparents, and other family members, as well as foster care. They lived like this until Chrissy was in 7th grade and the children were separated again. The boys were sent to one foster home and the girls to another, with no contact between the children.
Eventually, the girls went to live with an aunt and uncle, but that proved to be a stressful and unsafe living situation. The sisters were then split up – the oldest went to live with a friend, the youngest went to a foster home, and Chrissy and her other sister were sent to an over-populated group home.
Finally, a case worker stepped in and reunited the three youngest girls in a loving foster home with a family that truly made a difference in her life. Chrissy eventually returned to live with her mom for a year. Then at sixteen, she moved out of her mom's home and in with her older sister where she stayed until she finished high school.
The last foster family she was placed with made such a positive impact on her life that she returned to live with them while attending college. To this day, she calls them "mom" and "dad."
The family's powerful influence inspired Chrissy to foster children herself, one day. From the beginning of their relationship, Chrissy and her husband Doug agreed that they would pay their kindness and love forward, and a few years after having a daughter of their own, they became certified foster parents through Pressley Ridge.
Their first foster placement was a set of three siblings. Including their own biological daughter, there were four children under the age of five in their home. Though it wasn't easy, keeping the siblings together meant the world to Chrissy. 
Over the past several years, Chrissy has made certain that she provided a safe home environment for the nine children who have come to stay with her family. She strives to show these children that adults can be trusted to follow through on a promise.
Throughout her tumultuous life, some of Chrissy's most positive memories came during her time in foster care. At the age of seven, her foster family took Chrissy to her first restaurant (Pizza Hut) and on her first family vacation. During a week in Bethany Beach, DE she saw the ocean and played in the sand for the first time. Now she wants to create similar positive experiences for the kids in her care.
The most affirmative experience of all for Chrissy was the structure of the foster homes. She thrived on having responsibilities within a family unit and enjoyed doing chores and making to-do lists. Now, Chrissy's main goal as a foster parent is to make the kids feel safe and to positively influence their future through that same structure and family alliance.