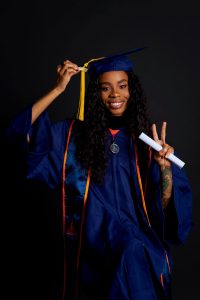 After a traumatic childhood that included time in foster care, Jessica was determined to beat the odds and get a college education. She initially enrolled in the University of Maryland Eastern Shore, but it was not a good fit, and she transferred to Morgan State University. There, she faced financial barriers and housing issues and eventually found herself with nowhere to live.
At the age of 20, homeless and discouraged, Jessica was referred by the Department of Social Services to the New Pathways Independent Living Program, a Pressley Ridge program for youth who are on the verge of aging out of the foster care system in Maryland. With a goal of educating and empowering young adults to overcome obstacles, the independent living program provides apartment-based services, including life skills education, career development and physical and mental health care.
Upon admission to the program, Jessica was asked where she saw herself at age 21 – just one year away. The staff was surprised to learn that Jessica had never given much thought to life after foster care, and she had no plans. Her lack of awareness motivated the team to show her just what she could do with focus, support, and a plan.
Often youth who have spent much of their lives in the foster care and juvenile justice systems are unaware of the services available to them and don't have anyone to help them navigate the confusing social service systems. The staff in Pressley Ridge's transition-age youth programs are responsible for opening doors and providing equitable opportunities for participants by connecting them to the programs and services they need to get back on track and make strides in life.
The encouragement and support of her team were all Jessica needed to take off running and never look back. While she was enrolled in college full-time as a psychology major, Jessica maintained good grades, and gained experience working at a therapeutic agency and an additional part-time job. Within six months, Jessica paid off old school loans and saved enough money to purchase a car.
As she was approaching her 21st birthday and subsequent exit from the foster care system, Jessica progressed to the Now I Can Have a Cat (NICHAC) phase of independent living. This program offers youth a higher level of freedom and the opportunity to experience greater responsibility for their own care, while still receiving support from Pressley Ridge. Through NIHAC, Jessica was able to choose her own place to live and assume responsibility for the lease, utilities and other bills. Pressley Ridge contributed a portion of the rent while preparing Jessica to handle essential adult responsibilities.
Jessica earned her bachelor's degree in Psychology in May 2022. She is currently employed full time as a Psychiatric Program Intake Clinician at a local hospital in Baltimore County, MD and part time as a therapist at Eating Recovery Center of America. She is also pursuing a master's degree from Coppin State University and is on track to graduate in May 2023. She continues to live on her own and hopes to purchase a home when the time is right.
In the beginning, Jessica had extreme trust issues but, eventually, she opened herself enough to trust her Pressley Ridge team. Reflecting on her time in the program and the team who kept her on track, Jessica says, "I am grateful to have been a part of the Independent Living Program at New Pathways. During the beginning stages of the process, I was truly a lost teenager…At moments I wanted to give up because it felt like all odds were against me, but [my team] stood by my side and encouraged me the entire time. They were my family when I had no one else, and my biggest supporters. They were there for the purchase of my first car, first apartment, and my college graduation…They continue to show up for me and are always a call away. I have such gratitude and appreciation for them, as well as the program, as they have truly contributed to my success."