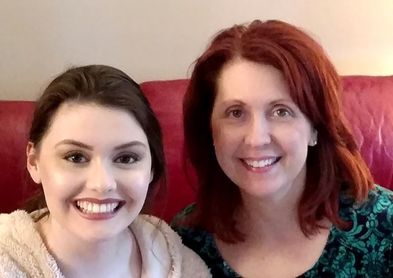 In her 18 years, Katherine has seen more than her fair share of struggles. At a young age, she lost her youngest brother to a rare disease — a loss that strongly impacted her family and ultimately resulted in her parents' divorce.
Middle school was particularly traumatic for Katherine, as she was bullied and began to experience depression and suicidal thoughts. It was also during this time that her older brother suffered a leg injury that led to a dependence on pain killers and eventually a heroin addiction. Katherine once saved her brother's life after finding him unresponsive in his bedroom and performing CPR. Sadly, the next time he overdosed, he could not be saved.
Her grandfather also passed away during this time. Following these losses, Katherine's Bipolar Disorder escalated, and she spent a summer engaging in reckless and dangerous behaviors, including an abusive relationship. She was spiraling out of control, and her family, who had already lost two children, had no idea how to help their daughter. After an attempted overdose on prescription medications, Katherine cycled in and out of inpatient treatment and was eventually placed in residential treatment. Finally after several months in treatment, Katherine began to address the loss and self-destruction she had experienced and was eventually discharged into family-based services with Pressley Ridge in May 2017.
Family-based services are delivered in the family's home by a team of mental health workers and are designed to engage the entire family in treatment. The family-based team provides 24/7 crisis response, thereby reducing the need for hospitalization, and can accompany the family to medication management appointments, collaborate with other agencies and services, and link the family to resources, including mental health, education, finance, and socialization.
Through Structural Family Therapy, the team worked to ensure that Katherine understood that she was home and safe, and she was there to stay. They led conversations between mother and daughter to help them bond and to help Katherine develop a sense of security that she could stay in the home with her family.
In addition, Katherine was still dealing with grief and loss relating to her older brother. The family-based team helped her progress by utilizing her talent for writing, and she expressed her grief through letters to her brother.
Katherine was also overwhelmed with nearly crippling anxiety and depression. The family-based team worked with Katherine on finding self-acceptance, mindfulness of her value and place in the world, and internal validation. She joined a church youth group and made new, positive peer relationships.
Over time, Katherine's team helped her to transition back into her home and school environments, reconnect with her mother, and most importantly, remain mentally stable and free from self-harm. Katherine flourished during her treatment and transformed from a young girl with little self-esteem, a fear of the world, and a yearning for acceptance to a brilliant, well-adjusted, and vibrant young woman.