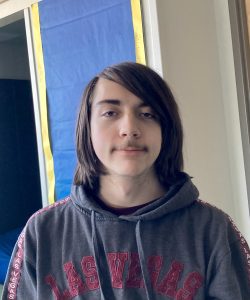 Pressley Ridge School for Autism student Ryan Berl began transitioning to Project LIFE at Goodwill starting this school year. Ryan's family and staff are proud of the gains he has made at Pressley Ridge, resulting in transferable skills to his pre-vocational placement. He has increased his time in the program to four days a week where he works on skills by rotating through different areas. He recently finished the E-Books rotation where he pulled books off of shelves to prepare for shipping, as well as organized the shelves. Ryan is currently working in Safety and Security where he watches monitors, checks fire extinguishers, refills first aid kits, and communicates with teammates using a walkie talkie.
Ryan has increased his self-advocacy related to asking for help when needed and is building skills related to updating his resume, creating a PowerPoint presentation, and participating in mock interviews. He is looking to return to Project LIFE full time in the fall and may become a peer lead where he helps others. Ryan has many strengths and states that he is an effective listener, is able to use his critical thinking skills and is able to complete work accurately. Ryan agrees that Pressley Ridge has been crucial to his success, in particular helping him to develop coping skills. Ryan's mother, Mari, notes, "Ryan has grown so much since his time at PRSA. It's great knowing that Ryan has all of the tools that he needs to be able to take care of himself, advocate for himself, and be a productive member of society. Those are all the things that I worry about in being a mom."
At school and at home, Ryan is known for his quick wit and sense of humor which enables him to connect with others. Mari remarks, "Ryan is the funniest person I know. He always has that one liner that comes out of nowhere and will have you laughing for days." Ryan's goals for after Project LIFE include increasing his cooking skills and exploring competitive work. He is very interested in understanding what makes a video game function and wants to learn how to program.