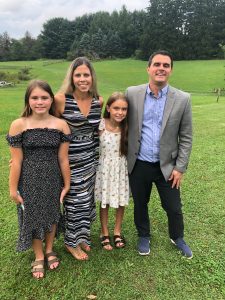 A few years ago, Kim Powell and her husband, Matt, noticed a change in their young daughter. She had been characterized as a 'difficult child' but had never been evaluated or sought help for any behavioral needs. She was becoming violent at home and refusing to attend school. Each day seemed to bring on new challenges and struggles for their family.  As tension grew, Kim and Matt knew they needed to find help, not only for their older daughter, but also for the rest of their family, including themselves and their other, young daughter.  
Making the decision to get help was easy for Kim and Matt. Finding help though became one of their biggest challenges.
At first, they had a social worker friend who connected them with an organization, but they only serviced Allegheny County, and their family resided in Butler County. From there, they began to explore their options with the county. As this was all happening during the height of the pandemic in 2020, there was major shortage in staff among behavioral health specialists, and it took several months for insurance to review their case. At this point, Kim and Matt were on several waitlists, just hoping to hear back.  
At one point during the waiting process, Kim talked with a family friend who suggested she look into family behavioral therapy in addition to individual behavioral health specialists.  
Kim knew of Pressley Ridge from her job at Huntington Bank. She knew her employer had a relationship with the organization, so she started to make some phone calls. She remembers back to this time saying, "You must be an advocate for your children. There was no one I wouldn't call to get her the help she needed. At the time, I didn't realize, but we were looking for help for our whole family." 
"You must be an advocate for your children. There was no one I wouldn't call to get her the help she needed. At the time, I didn't realize, but we were looking for help for our whole family." 

Kim Powell
Kim was able to get connected
with Pressley Ridge—a light in what seemed to be a very dark, long tunnel. From the very beginning, Pressley Ridge's staff went above and beyond in understanding their family's needs. They met with case workers to create a plan for their daughter.
Kim and Matt were very open about the current state of their family and what their family's goals were. The Pressley Ridge staff listened to their concerns and created a plan around their family's needs, specifically around their daughter's oppositional defiant disorder (ODD), ensuring they'd see success if they all worked together to implement the plan they put together. Kim and Matt had to look within themselves and make a conscious effort to remain consistent throughout the process. That meant shifting years of polarizing parenting styles to come together as a strong family unit for their daughters. 
"We knew it was going to be difficult, but the case workers at Pressley Ridge prepared us completely, and we were all in."
From the first visit, Kim saw a difference in her daughter. She knew the level of support provided by Pressley Ridge was unlike anything else they'd tried in the past. On the first day of care, her case workers stayed at their home until 9 PM, and even once they left for the night, Kim was able to call them with questions.  
Pressley Ridge's care for their daughter was the spark that changed everything for Kim, Matt, and their entire family. Their daughter began to work, willingly, with a therapist at school, and continues to see major strides in managing her ODD. With the help of Pressley Ridge, Kim and Matt were able to get their family back on track, saying, "when I say family therapy, I mean they helped each member of our family, as well as the whole dynamic of our family." Even when their daughter moved on to treatment at school and through other venues, Kim and Matt continued to work with Pressley Ridge.  
Kim and Matt are so thankful for the support they received from Pressley Ridge. Making the decision to get help is sometimes the hardest step, but then running in to challenges with finding help can be just a as big of an obstacle.
Kim says, "I was lucky to find my way through it, but I know how hard it can be for families with limited resources. After having such a gratifying experience with Pressley Ridge, I would love to give back. Even if I could just help one family."