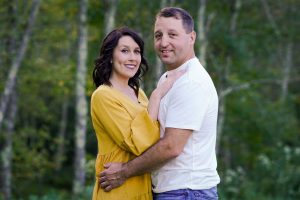 Adam and Kayla Wratchford always wanted to adopt a child. Like many families, they were surprised to learn that fostering could be the first step in the adoption process.
From the first time they contacted Pressley Ridge, Adam and Kayla always felt like they were working with 'real people' who loved what they did. It was obvious that this was more than just a job to the staff. As they learned more about becoming foster parents, they were excited but weary of the unknown of foster parenting. They were afraid of being disappointed or hurt, but with the support of Pressley Ridge, they were able to overcome those fears and gain a better understanding of all the positive possibilities of foster parenting.  
Adam and Kayla completed the extensive training and certification process, and shortly after, a set of twins were placed with them. One of the lessons that stood out to them from the Treatment Foster Care training was how valuable involving biological parents in the lives of foster children can be. They were admittedly nervous at first, but using a  foundation built from the Pressley Ridge resources and an open and kind heart, Adam and Kayla made a place for their twin's biological family in their own family.
The Wratchfords share photos with and include the biological family in birthday celebrations and holidays, and the twins' siblings often come over for playdates. Kayla feels strongly that the twins need to know that their biological parents still love them, which is why they made the decision for them to have a loving home where they would be well cared for.
Now, they have their own modern family. Kayla says, "If I had seen my life a year ago, I wouldn't have believed it."
Adam and Kayla's wish is for every foster parent to have a relationship like they do with their kids' biological parents. Pressley Ridge prepared them well to take on foster parenting and everything that comes with it. They knew that if there was ever a question or issue, the staff at Pressley Ridge were always there, saying, "They never leave you questioning what you should do."
The Wratchfords feel especially grateful for the guidance around involving biological parents: "It's the ultimate reward for our family for everyone to be involved in our kids' lives. There are never too many people to love a child."