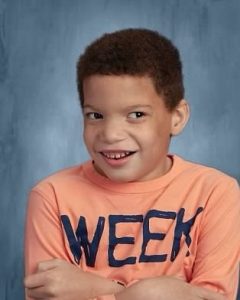 One Sunday at church, Lydia and Kevin Yoder were introduced to two children in need of a stable home. They immediately knew that they were being called upon to become foster parents. Both children, a teenager and a toddler, had significant needs that required special attention and care. The Yoders were in a position to provide them with that safe, stable home life and eventually gained full custody of the siblings.
Lydia began to educate herself on caring for children who have experienced trauma and those with emotional disabilities. She enrolled in Empower to Connect, a training program designed for parents and caregivers of children who have had adverse childhood experiences.
Armed with this knowledge and passion, Lydia and Kevin made the decision to become licensed treatment foster parents. They completed the Pressley Ridge pre-service training in February 2019, and shortly thereafter, five-year-old Tomias, who is on the autism spectrum, came to stay with their family. He was non-verbal and had severe developmental delays. The Yoders sought the help he needed, and, along with Pressley Ridge, a special education teacher and other support services, they became a strong team dedicated to helping Tomias.
In early 2020, the COVID-19 pandemic restrictions forced Tomias to stay home and learn virtually, which was a difficult transition for everyone. Lydia quickly jumped in to help him, and with virtual professional guidance, she was able to provide occupational therapy manipulation and act as his speech therapist, as well as home school teacher. It ended up being a blessing in disguise, as Tomias thrived learning in the home setting.
Just one year ago, Tomias spoke only seven words. They taught him how to use sign language, so now he had a way to communicate his needs without frustration. When Tomias received an Augmentative and Alternative Communication (AAC) device, he began speaking in full sentences. This opened up a whole new world of communication for him, and he now speaks over 200 words.
"It has been an explosion of growth," said Lydia. "It hasn't been easy, but it is so rewarding to see him grow."
Before the Yoders, Tomias never had a consistent caregiver or a stable home environment. That has all changed with the love and support of Lydia and Kevin. Tomias' ability to learn and cope has increased and he is now more connected to those around him than ever before. As a true partner, Pressley Ridge staff continues to be a valuable resource, helping to guide them through the process of caring for a special needs child. With just over two years of experience in fostering, this has made a world of difference for the Yoders.
Fostering has given Lydia a sense of purpose, one that she hopes will be her legacy. "This is more than just parenting to me. This is about making a huge impact in the life of a child."
"This is more than just parenting to me. This is about making a huge impact in the life of a child."

Lydia Yoder