Learn More About Becoming a Foster Parent
Candace King began her foster care journey in 2011. Though many foster parents are hesitant to take in older girls, Candace's natural ability to connect with girls over the age of 7 and into their teens, made her an ideal foster parent. Candace offers a stable home life, as well as the patience, warmth and love these girls need.
When she first started fostering, adoption was not part of the plan. That changed when Faith and Jurnee were placed in her care in May of 2017. Their mother died when she was tragically hit by a car and the two sisters and their three siblings witnessed the accident. The children's father was unable to care for them. So, in addition to the trauma of losing their mother, the children were uprooted from their home, and the girls were separated from their three siblings. As Jurnee is intellectually disabled and Faith was academically behind in school, both girls needed a great deal of support. Additionally, due to the circumstances surrounding the loss of their mother, they also needed extensive grief counseling.
In Pressley Ridge's model of Treatment Foster Care, the foster parents are a key member of the team and work directly alongside the staff to help children with the issues that are directly related to trauma. Through consistent behavioral and trauma-based interventions, clinical consults, and unconditional love and care, Candace was there for support and encouragement, and most importantly, she was there to help them feel safe.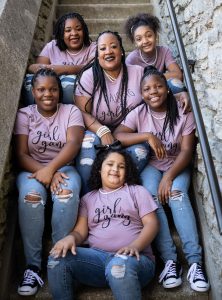 Thanks to support of Pressley Ridge and the love and guidance they receive from Candace, Jurnee is receiving the help she needs, and Faith is gaining ground in school. Their lives are full and busy as both girls sing with the church choir, Jurnee loves photography, and Faith enjoys dance and cheerleading.
Being a single parent has its challenges, but they work through everything together. Candace is grateful every day for her family.
Over the years, Candace has opened her heart and her home to 25 foster children. Today, she is a mom to five daughters, and she continues to foster young girls.
---
If you're not quite ready to begin your fostering journey, you can still support the youth in foster care by making a donation now.