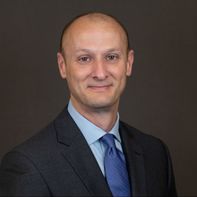 Douglas A. Mullins was appointed Chief Financial Officer (CFO) in August of 2012. In his role as Chief Financial Officer, Doug directs the organization's finance and accounting practices along with Information Technology and Facilities Management activities.
​Doug has been with Pressley Ridge for over eleven years and most recently served in the position of Senior Director of Finance and Contracts. He has extensive knowledge of organizational and program operations and has worked closely with Program Directors and Senior Directors for many years to assist in making Pressley Ridge programs fiscally viable.
​
Prior to his work at Pressley Ridge, Doug worked in Public Accounting for Parks, Foster and Morris, P.L.L.C. where he focused on auditing, tax and consulting services. He also worked for the Bureau for Medical Services in West Virginia where he held various financial positions.
Doug earned his Master's Degree in Public Accounting from West Virginia University and his Bachelor's Degree from West Virginia Wesleyan College. He is a Certified Public Accountant and a member of various professional organizations.