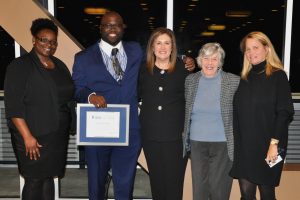 Dion Inge, Treatment Coordinator in Delaware, has been selected as the 2019 Fay Mosle Generosity Award honoree. After having spent 13 years in foster care, Dion became a social worker to make a difference in the lives of kids in similar situations. In the past year as a Treatment Coordinator, he has made a tremendous impact on the youth, families and staff with whom he works.
Dion was chosen as the honoree of this inaugural award for his natural ability to relate to the youth he serves and the generosity he demonstrates. In addition, Dion is the co-founder of OurBoys,OurMen, a nonprofit mentoring organization to support young minority males from 10-24 years of age with the goal of defeating stigma and stereotypes through educational and social skill groups and experiences.
The Fay Mosle Generosity Award was established by Fay Mosle's family to commemorate her 20 years of dedication and commitment to the Pressley Ridge Board of Directors and will be presented annually to a Pressley Ridge direct care staff member.
Dion recently shared his story of growing up in foster care at the Storytelling Event in Baltimore. You can listen to the audio recording here.