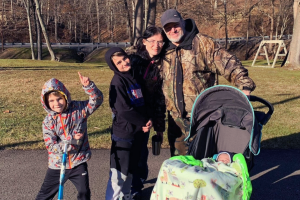 This foster care month, one family offers hope to others who may be experiencing a similar situation.
Poor decisions prior to the birth of her youngest son led to the removal of all three of Shannon Fleeson's children. Newborn Xander was placed in a Pressley Ridge treatment foster home with the Parker family, while the two older youth were placed with a different agency. This was a wakeup call for Shannon and her husband, and they began taking the necessary steps to better their lives and reunite their family.
Noticing how well Xander was being cared for and how supportive the Parkers were of their communication and family visits, Shannon requested that her other two children be placed in Pressley Ridge foster homes. "It always felt like Pressley Ridge was working to reunify our family. So, we pushed hard to get all kids to be under Pressley Ridge's care."
The foster parents and Pressley Ridge Program Supervisor Alexa Bean went above and beyond to support Shannon as she was building a better life. Alexa helped her get a new pair of glasses and always made sure that the Fleeson family was able to spend quality time together. Shannon recalls, "One time the power was out at the building where we usually had our visits. Alexa went out of her way to keep our visit, even with this setback. She set up a visitation outside at a park since we couldn't use the building."
While it was stressful to be separated from her children, Shannon was in regular contact with them, which made her own journey much more successful. She appreciated that Pressley Ridge encouraged the biological family and foster family connection. The Fleesons and Parkers worked as team, and Shannon believes that her son Xander truly benefitted from his time in foster care.
The Fleesons have worked hard to stay clean ever since Xander was born, and as a result the family has been reunited. They continue to stay in touch with the Parkers – even making them Xander's godparents – as well as the Pressley Ridge staff. Shannon "Alexa takes her job to heart. The kids are not just another file. She gave us chance of retribution, a second chance."
Shannon wants other families who are experiencing Child Protective Services cases to see that there are success stories, and they shouldn't give up. She wants those families to see that foster care doesn't have to be a negative experience; foster care workers are supportive of reunification.
Alexa Bean couldn't be more proud of the effort of both the foster and biological families. "This is what family engagement looks like. Due to the foster parent's willingness to be a support for the Fleeson family, they were able to build a positive bond and relationship that continues to this day. I am so proud of the work, time and effort that both the Fleesons and Parkers displayed throughout the case. I am thankful to be part of their successful reunification story."