As challenging as the past year has been, the Healthcare Mentorship Maryland program has flourished during the pandemic due to the demand for front line medical professionals. The program is offered at our Career Development Center in Towson, Maryland and provides healthcare career training and job placement for young adults ages 18-24. Currently, students can train to become Certified Nursing Assistants (CNA) and Geriatric Nursing Assistants (GNA).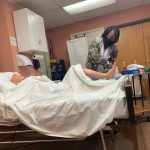 Despite personal upheavals, the determined future CNA/GNAs proved that they were able to withstand the pressures of a global pandemic, personal challenges, and academic pressures to succeed.
Danielle always dreamed of working in healthcare but believed her aspirations were out of reach due to financial hardship. When Danielle first enrolled in Healthcare Mentorship Maryland, she worked part-time in food service and was barely able to make rent. After successfully graduating from the program, Danielle obtained her CNA/GNA license and immediately accepted a job offer from Keswick Multicare, where she now works as a full-time nursing assistant. Danielle is grateful that her education and employment have allowed her to become more self-reliant. She hopes to continue her education and become a patient care technician after gaining more experience as a GNA.
Regine is a 20-year-old single mother who was experiencing homelessness when she enrolled in Healthcare Mentorship Maryland. The case manager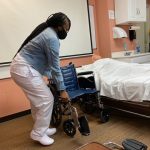 developed a plan that helped Regine acquire affordable housing and stable employment to support her through the training. Despite her obstacles, Regine graduated with her nursing assistant certification on time with 100% attendance and a glowing recommendation from her clinical instructor. Regine is now using her new skills to seek advanced employment opportunities in a hospital setting, where she will receive increased wages and enhanced medical benefits.
Our workforce development programs are designed to develop the skills and increase the employment possibilities for young adults transitioning out of foster care, juvenile justice or other state programs. These youth are full of untapped potential and big dreams but face even bigger challenges with fewer opportunities. Pressley Ridge offers the support they need to achieve their goals and change the way they view life and their own potential.
For more information about our career development and other support programs for transition-age youth, visit our website.