September is Suicide Prevention Awareness Month, a time to bring awareness to the warning signs and ways to prevent suicide. As everyone's mental health has been affected by the events of the past year, it is now more important than ever to be there to support our loved ones and friends. If you or someone you know may be considering suicide, there are many ways to get help.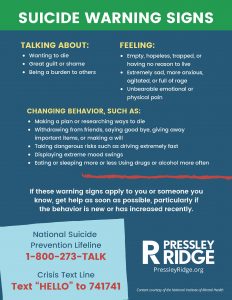 National Suicide Prevention Lifeline
1-800-273-8255
Crisis Text Line
Text "HELLO" to 741741
Find out more about the warning signs of suicide by downloading this flyer.
Pressley Ridge offers comprehensive outpatient treatment and counseling for a variety of emotional, behavioral and mental health issues. Find a location near you.
More Resources: