Prior to the 1980's, teens with complex challenges were typically placed in residential treatment because no one thought foster care would be successful for this age group. Pressley Ridge leadership believed differently, and in 1981, the research and planning for Pressley Ridge Treatment Foster Care for teens began.
Since no other such program existed in the country, Pressley Ridge Treatment Foster Care was developed so it could be replicated. Every step was annotated and data was collected to determine what methods worked best. Foster parents were carefully selected to complete a six-week training course, which included 25 hours of role play and skills practice, as well as a commitment to never give up on the youth in their care.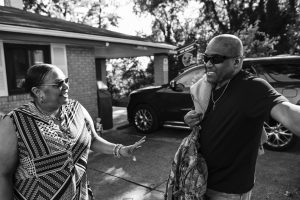 In the first year, 20 teens were successfully placed into treatment foster homes. Including the home of Shawn and Dwayne Adams, who were among the first group of certified treatment foster parents.
Shawn and Dwayne were a young married couple with no children. While attending graduate school at the University of Pittsburgh, Dwayne saw a sign posted by Pressley Ridge on a bulletin board that read 'Help our Children'. He approached Shawn with the prospect of becoming foster parents. Though she had grown up in a home where her parents had fostered over the years, Shawn felt unqualified because they did not have children of their own.
Reluctantly, she agreed to try fostering, and the couple began pre-service training with Pressley Ridge. Little did they know then that this would be the beginning of a journey that would positively impact more than 200 children over the next four decades of their lives.
From the first training session, Pressley Ridge supported Shawn and Dwayne with education, skills, and guidance to navigate the foster care process. The program taught them how a youth's behavior can change and how to teach youth the skills necessary for daily living. They learned effective behavior management techniques to help the children in their care deal with behavioral and emotional challenges, and they applied these same techniques in raising their own biological children.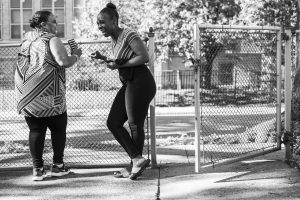 "It was a wonderful learning experience," said Shawn. "Over the past 40 years, it is incredible how we have implemented our training and techniques in every aspect of our family life".
Though Shawn grew up around brothers and primarily male foster youth in her parents' home, she and Dwayne felt most connected to teenage girls in fostering. Using the methods learned through Pressey Ridge, the Adamses were able to gain the trust of the girls in their home. The dining room table was not only a place to gather for meals, but it was a place to sit and talk through what was on the minds of the young ladies staying with them. It was not uncommon for the conversations to last long into the night. For some of these girls, it was the first time someone was listening.
Two of the first children they fostered were young sisters who spent five years with their family. It pained Shawn and Dwayne to hear the struggles they had already faced at such a young age. The girls did not have typical childhood experiences. No Easter baskets, Christmas gifts, or birthday parties—the things most children take for granted. Shawn and Dwayne were determined to change that for the girls. With the money received from fostering, they made certain that holidays were special with celebrations, treats, and gifts. For the Adams family, it became their joy to give joy.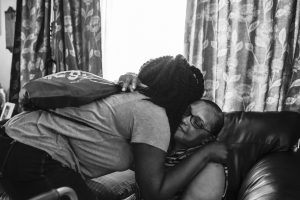 Shawn and Dwayne have seen and experienced many changes over their four decades of fostering. Though the generational differences of behavior and respect were apparent over the years, all in all, the needs of the girls they fostered always remained the same. They needed a safe home to live in, and they needed to be respected and cared for.
After 40 years and more than 200 children living with the Adams family, the COVID-19 pandemic played a role in their decision to retire from fostering. It wasn't an easy decision to make, but it was time.
Shawn and Dwayne feel blessed to have experienced the journey with all the children they have fostered.
"I feel like over the years, it's the children who have taught us much more than we could have ever taught them. God put us on this path, and we put our trust in Him. Pressley Ridge taught us how to do the best we could to help the young people who came to live with us."
Today, they are grateful for the lessons learned and experiences lived, and most importantly, the long-term connections they still enjoy with some of the young ladies whose lives they touched.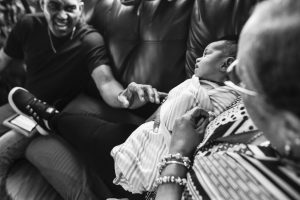 Watch a video and read more about Shawn and Dwayne Adams here. 
As we celebrate 40 years of Pressley Ridge Treatment Foster Care, we are grateful to our foster families, like the Adamses, who have contributed to not only the success of the program, but more importantly, to the success of thousands of young boys and girls.
Photos by Rebecca Kiger